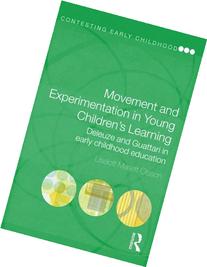 In contemporary educational contexts young children and learning are tamed, predicted, supervised, controlled and evaluated according to predetermined standards. Contesting such intense governing of the learning child, this book argues that the challenge to practice and research is to find ways of regaining movement and experimentation in subjectivity and learning.
Vivid examples from Swedish preschools – involving children, teachers, teacher students and educators and researchers – are woven together with the theories of French philosophers Gilles Deleuze and Félix Guattari, bringing 
important new concepts and practices to the early childhood field. This ground-breaking book investigates three key areas:
• the need to focus on 'process' rather than 'position', as positioning of any kind, such as learning goals or developmental stages, hampers movement.
• working with methods that recognise science's inventiveness and productivity, demonstrating how the events in which children take part can remain open ended and in movement.
• Re-considering the dichotomy between the individual and society as a 'cause and effect' relationship, which immobilizes subjectivity and learning and hinders experimentation.